If you received a suspicious email, please forward it an all attachments to support@des.ucdavis.edu with full headers. For more information, see How do I view email full headers?
If you received a phishing email and clicked on any links, downloaded any attachments, or provided your login credentials, please email support@des.ucdavis.edu. For more information about phishing, see What is Phishing?
In addition to reporting the email, you can also use Outlook for desktop for Outlook for web (365.ucdavis.edu) to report the email to Microsoft.
Outlook for desktop
Click on "Report Message" and select "Junk" or "Phishing"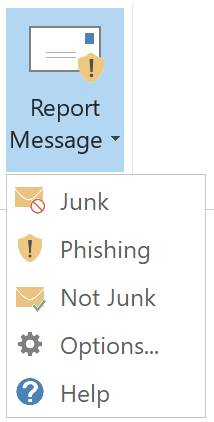 Outlook for web
Click the ... for More Options

Go to "Report Message"

Select "Junk" or "Phishing"